My Aunt Eloise has passed away yesterday, February 2, 2016. She was 95 years old.
Here is a photo from 2007 and some memories written by my cousin Joyce Kruger Natzke, Bonduel, who is also in the photo.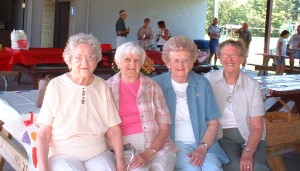 From left to right: Three of my aunts – Evelyn Kruger Miller, Lucille Kruger Heath, Eloise Kruger Quinn and cousin Joyce.
Just my Aunt Lucille, the one I consider to be most like my dad Kie – she is a real card – and Joyce are the only ones still here.
"Word came yesterday that Aunt Eloise passed. She was my Dad's youngest sister, and spent about two years with us, at the age of 18, running our household. She married Ivan(Pete) Quinn on the lawn at Grandma's.on Nov. 15, 1941. Not long after that he was drafted and served in WWII. Actually 4 of the Quinn boys were in the army, and I remember Mrs. Quinn had four stars in the window. Pete was sent to Iceland and I know one of  the boys was in the Pacific. While they were gone, Eloise and her friend, who was married to another brother, Ellis, decided to join the war effort too. They went to Chicago and were two of the "Rosie the Riveters" that you have probably heard of. She was 95, and her birthday was in June, so almost 96.
"One thing I remember about the wedding. After the ceremony, she exclaimed, "My flowers!" She had forgotten them in  the house!" by Joyce Kruger Natzke