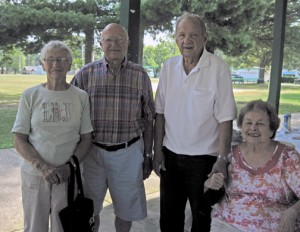 On the right is my brother Neil and his wife  Pat. But on the left, is our first cousin once removed and his wife – Loren King and Shirley. There is such a family resemblance between Neil and Loren. Our grandfather, John Fuhrmann and Loren's mother Lorena Fuhrmann King were brother and sister.
Lorena's husband, William King, was a minister and a really fun person to be around. At the end of their life, Uncle Willie and Aunt Lorena lived on Lawrence Street in Westfield in the same house that Great Grandma and Grandpa Fuhrmann lived in.
I don't know if I could ever find it, but somewhere I have a tape that we made with Mom (Alta), myself, Aunt Vaudice and Great Aunt Lorena. Aunt Lorena was not all that much older than my mother – ten years. It was Aunt Lorena who shared her obituaries and other family papers with me. One obituary was for my Great Grandpa Kruger. No one else on the Kruger side seemed to have that document.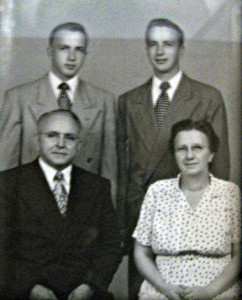 This picture of the family was probably a scan or picture taken with the photo still in a frame under glass (not by me), but I thought it was worth putting it in here. In back Loren and Virgil King. In front Great Uncle Willie and Great Aunt Lorena Fuhrmann King. Willie King is related to me through the Boniers. Aunt Lorena is my grandfather John Fuhrmann's sister. They are not related to each other.